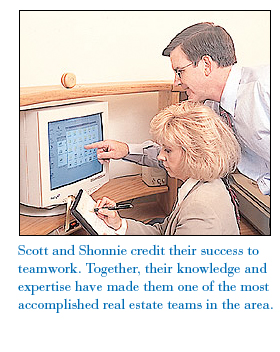 It was a trip that began with great expectation. Just a few days prior, Scott Tornow had learned he'd been offered a position with the Department of Water and Power in Southern California, a place he and his wife, Shonnie, had always dreamed of living. Wasting no time, they packed up their belongings, gathered their three children, and began driving cross-country to settle into their new home.
But something happened on the way to Los Angeles from Pittsburgh…Ohio to be exact. On a desolate highway with no sign of civilization for miles, the Tornows' car broke down. To top it off, it was the middle of summer and temperatures were well above the century mark. For a while, the Tornows were rendered helpless. "There we were: Two kids, one baby and a dead Volkswagen in the middle of nowhere," Scott recalls. "There was no one to turn to."
lending a helping hand
With the children growing hot and restless, and Scott and Shonnie becoming concerned for their safety, some luck finally came their way. A good Samaritan stopped and helped them get a tow truck. The tow truck driver's family set them up in the local motel and helped them around town while their car was being repaired. For Scott and Shonnie, this event became a pivotal experience in their lives. These simple acts of kindness from strangers would form the basis for a life philosophy. It is also the reason why, as one of Utah County's most accomplished real estate teams, their motto is "Turn to the Tornows."
"We learned that, whether it's personally or professionally," Shonnie explains, "you should always give of yourself and help others whenever it's needed.
The Tornows did finally arrive in Los Angeles, granted three days later than scheduled. Scott went to work for the DWP and even earned his MBA from the University of Southern California. And Shonnie worked in property management and opened her own interior decorating business. But no matter where life took them, they never forgot that invaluable lesson in life they learned on that Ohio highway — being able to help others had become an important part of their lives.
So when Scott and Shonnie decided to move back to Utah County to be closer to their families, it was no surprise that they wanted to go into real estate and help other families with one of the most important aspects of their lives — their homes. "There are not many professions like ours where you get the opportunity to make a difference in people's lives every day," Scott says.
With more than 20 years of combined experience, Scott and Shonnie are doing just that. Together they are able to use their knowledge and expertise to form one of Utah County's most dynamic real estate teams. With Scott's extensive business background and Shonnie's strength in presenting homes, you can rest assured your real estate needs are in good hands. In addition, as natives of the area, no one knows the market better than they do.
make the right turn
Throughout our lives, there will be times when we need to turn to someone we can trust. Finding someone to handle your real estate needs is one of those times. Whether you're buying or selling your home, find out why more and more Utahns are "Turning to the Tornows." Call them today.